TOTAL SERVICES FOR LOCAL CUSTOMERS
WE SERVE OUR HOMETOWN CUSTOMERS
We offer our local Houston customers a total service solution. Because we sell directly to mills and smelters, our prices are always competitive, allowing us to provide top value for their material.
We store and process scrap in permitted facilities and follow all local, state and federal regulations. This is for our protection as well as our customers' protection.
We receive the scrap on certified scales and provide all the necessary documentation including photos and scale tickets so that a thorough audit trail can be generated. If requested, we provide certificates of destruction/non-reuse with supportive documentation and photos.

INDUSTRIAL & MANUFACTURING
CUSTOMERS
We can design and customize scrap management programs to efficiently remove scrap metals from our customers' facilities.
Services include:
• Daily on time pickups
• Custom-built shop handling equipment
• Custom built roll off containers
• Availability of flatbeds and other equipment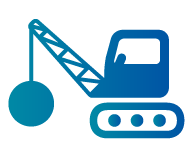 HOUSTON DEMOLITION COMPANIES
Local Houston Demolition Companies depend on Tri Coastal Trading to maximize the value of their material.
We offer two options:
• Deliver the scrap directly to our yard
• Rely on our transportation services. We can stage roll off containers or provide end-dump trailers such as Monstars and flatbeds for efficient hauling of the material.

HOUSTON DEALERS
Local Houston dealers can deliver their prepared, ready to ship material to our barge dock or export ship loading dock.
Additionally, many rely on Tri Coastal Trading to efficiently prepare the material generated by their own customers rather than process it themselves.